Services
JP Communications Inc has a diverse offering of services.

Supplier Pass™
Supplier Pass™ Premium Members are Suppliers and Service Providers that have successfully passed a Company Profile Verification (CPV) by an accredited third-party agency. The authenticity of the Members' corporate information, along with many other important factors, is verified via company interview and public records before the Supplier Pass™ verification is issued. Due to the high level of verification, TopTenWholesale.com users get the utmost credibility when working with TopTenWholesale.com's Supplier Pass™ Premium Members. Providing a trade platform with security and transparency is TopTenWholesale.com's primary goal. The Supplier Pass™ Shield logo is located next to each of the Premium Members' names that have successfully passed the CPV process.
Custom Sourcing
Find our Customized Sourcing service on TopTenWholesale.com and Manufacturer.com. Customized Sourcing offers a highly efficient and uniquely tailored sourcing tool for buyers. Our specialists match buyers' detailed sourcing requirements with the right Premium and Verified suppliers whose production capacity and supply can match our buyer's unique requirements.
Specialist Industry Support
Our Industry Specialists analyze your RFQ's then we select the best matching supplier
Supplier Matching
We match you with suppliers based on their capabilities and quality of their product or service
Fast Online Quotations
Post your RFQ and you'll receive quotations from matching suppliers as quickly as possible
Source Efficiently
Searching among thousands of options for the one supplier with the right products and production ability is not easy. With Customized Sourcing, you can find the right supplier efficiently. Simply post your detailed RFQ Form and let our Industry Specialists match your sourcing requirements with the right suppliers.
Save Costs
Smart buyers know that the way to reduce costs is by connecting with the right suppliers first. Our Specialists match your requirements with Premium and Verified suppliers to save you money through faster sourcing. Access to multiple quotations also allows you to pick the best price.
Find High Quality Suppliers
We choose the best matching suppliers from TopTenWholesale.com and Manufacturer.com's vast supplier list to quickly narrow your search and provide you with high quality quotations for comparison.
Logistics
Our cost-effective tailored supply-chain solutions will
provide your business with what you need, when you need it.
Our warehousing facilities are strategically located in Los Angeles and New Jersey - the most active ports in America. With locations on both the east and west coast of the United States, we are able to provide prompt service and distribution throughout the country. The Los Angeles and New Jersey based warehousing facilities are located within 15 miles of the most active port locations.
We also offer packaging, assembly, handbag stuffing, shrink wrapping and other value-added services making us the only partner you'll need for your product handling requirements. Whether you're an e-commerce company shipping internationally or a manufacturer fulfilling orders to big-box retailers, our services are customized to your specific needs.
Warehousing
10 to over 10,000 square feet for bulk storage
Distribution
Customized 100,000 square foot distribution center
Fulfillment
From pick and pack services, full case distribution to full truck load distribution
Quality Control
Attention to detail to make sure orders are shipped correctly and on time
Freight Forwarding
By ship, by truck, by train, we'll take care of all the detail
Air Cargo
When time is of the essence, our network of air carriers are reliable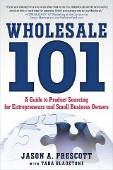 Wholesale 101
A Guide to Product Sourcing for Entrepreneurs and Small Business Owners
Authored by Jason Prescott, who is the CEO of TopTenWholesale.com and Manufacturer.com, you'll quickly gain inside tribal knowledge to one of the hardest businesses in the world to crack. Whether you are trying to make a decision to enter into the wholesale market through dropshipping, importing or manufacturing, Wholesale 101 will give you hands on tested methods, trade shows, communication tactics and tips that will save you an infinite amount of time and money.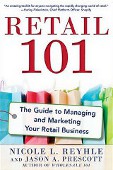 Retail 101
The Guide to Managing and Marketing Your Retail Business
From the Founder of Retail Minded and the Independent Retailer Conference, Nicole Leinbach Reyhle, and the CEO of TopTenWholesale.com and Manufacturer.com, Jason A. Prescott, "Retail 101: The Guide to Managing and Marketing Your Retail Business" delivers realistic, practical and useful insight for brick and mortar and online merchants looking to compete successfully in the retail world!